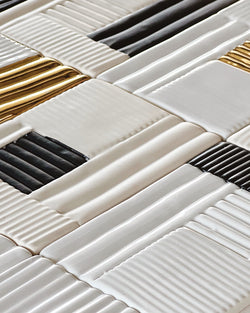 Patchwork Tiles - Samples
Handmade ceramic tiles made in the studio using plaster molds and liquid clay. Each tile is made using porcelain slip and glazed in a gloss white glaze with matte black and gold luster detail. Available to purchase as a single 4"x6" tile sample or a square foot sample (6 tiles). Linework design will vary from samples. Want to inquire about your specific project? Please visit my contact page and submit your project details. I can't wait to work with you! . 
Tile Size: 4" x 6"
PRE-ORDER: Orders placed after 9/15 will ship out in January 2024.   
*Every piece in the collection is made by hand and in small batches. Slight variations in size, shape and color are inherent to the handmade process.